5 THINGS EVERY INSURANCE COMPANY SHOULD KNOW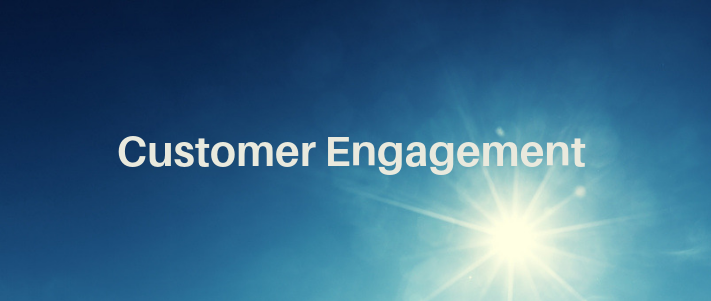 Customer engagement isn't just a number of interactions a customer has with their insurance company. It's more of a connection that goes beyond a transactional relationship. Many perceive it as a fuzzy feeling that consumers might have towards a brand they're insured with, that is hard to measure and explain.
---
At Consumer Intelligence, we disagree with that. We've been collecting consumer opinions of insurance companies for over a decade, and have put this knowledge into creating a unique Customer Engagement Index to explain what difference it makes to insurers.
Here's a summary of the 5 key findings on customer engagement every insurer should be aware of:
1. Brands with higher customer engagement have higher levels of retention
The first and by far the most powerful insight is that customer engagement has a strong positive correlation with customer retention. As such, it has a positive impact on business profitability, as it saves insurers having to spend money to replenish the customer base switching to competition. What's more, any new business acquired will be attracted to stay with the brand beyond their first year.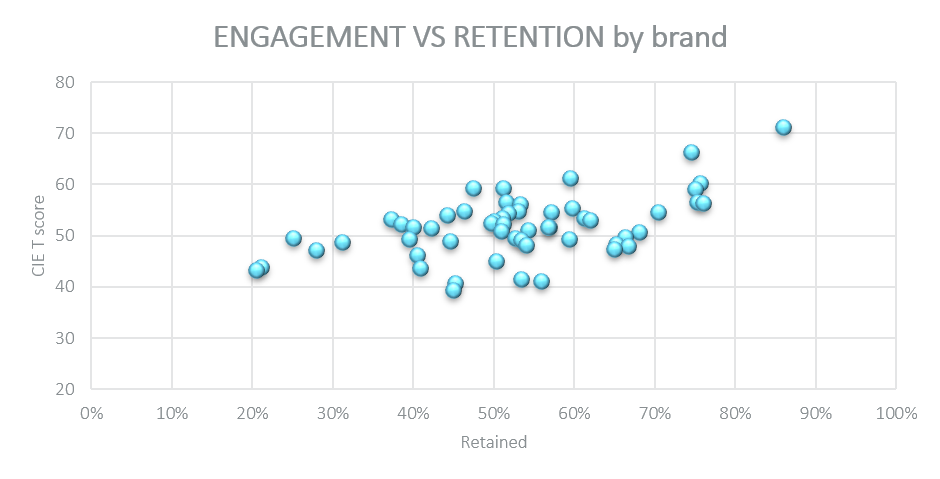 2. Higher customer engagement means lower shopping rates
An engaged customer is content with the value delivered by their insurer. And by that we don't only mean the contents of their insurance policy – it will be a mixture of value of products bought and customer satisfaction from interactions with the insurer, perceptions of customer service, care and trust.
Customers who are content with what their insurer delivers, tend to be less focussed on the price. Our data has shown a statistically significant difference in engagement levels between customers shopping around and non-shoppers, with the latter group being more engaged. Brands, which don't engage their customers enough, simply let their renewal notice be the only factor deciding whether consumers go out to get quotes from other insurers and switch to competition.
3. Claimants tend to be more engaged than those who never claimed on their policy
Claim
is just another interaction as part of the customer journey. Most customers won't have experienced the claims service of a provider, yet ultimately this is the real moment of truth in delivering on the promise of peace of mind. Whilst insurer's need to get this process right, they also need to impress their customers. And in most cases, they do. Nearly half of motor insurance claimants scored their insurer a big fat 10 on a 10-point claim satisfaction scale. This is probably the reason why our data shows a significantly higher engagement levels between customers who had a claim with their insurer, and those who didn't.
4. It's not always the biggest brands that are best at engaging customers
Our data shows that out of the top 10 brands best at customer engagement, only 3 are among the largest brands in the motor insurance market. It proves that you don't need to be a big player to win at the customer engagement game. Smaller brands, particularly those which focus on direct interaction with their customers do it equally well, if not better than the market giants.
Top 10 most engaging motor insurance brands*
AA
Age Co
A-Plan
Co-op
Direct Line
John Lewis
LV=
M&S
More Than
NFU Mutual
*In alphabetical order
5. Engagement among motor consumers is on the up
The purchase channel is one of the strongest predictors of engagement identified in our analyses. Customers using direct methods such as telephone (or app) or insurer's website have higher levels of engagement, while those using indirect methods (PCW, cashback sites, broker) are the least engaged.
2018 saw the largest increase in engagement levels across the motor insurance industry over the last 5 years (+1.4%). It's worth noting that while in 2014 indirect channels for buying motor insurance were almost twice as popular as direct, the ratio of usage between these two in 2018 was almost 1:1. Is this a sign of consumers searching for deeper interaction with their insurers? Maybe that is the reason behind growing engagement among consumers.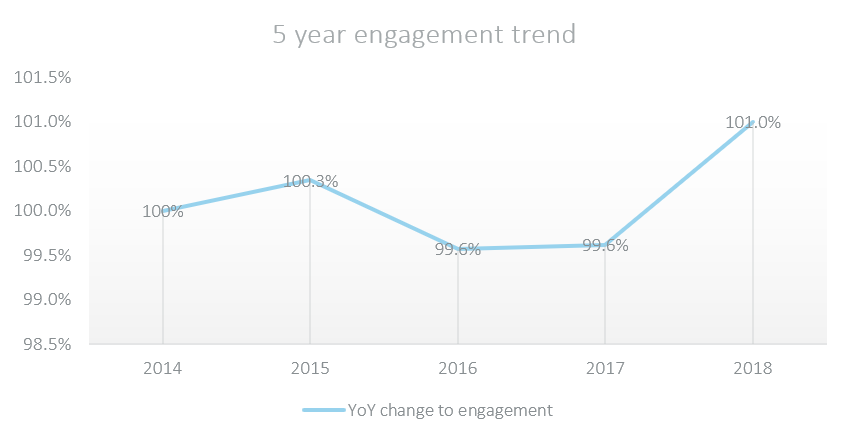 If purchase channel changeover was the only element driving the engagement levels in motor insurance, insurers should be focusing on their customer engagement strategies going forward.
"We believe and have proven analytically that treating customers well is important. Customers who feel more connected to a brand are more loyal to the brand. This in turn drives profitability. Brands with high customer engagement have a higher retention. In the increasingly challenging market with pressure on dual pricing, retention is the key to success, and this is driven by customer engagement." – Rajeev Aggarwal, Managing Director, Advisory